There are a total of 15 national parks dotted across Great Britain. 10 in England, 2 in Scotland and 3 in Wales. All of which boast stunning and diverse scenic splendour. These immensely beautiful areas conserve the wildlife and cultural heritage of a region and being the so-called 'breathing spaces' of Britain, it is hardly surprising these parks collectively attract an estimated 110 million visitors each year.
"National Parks Week is the National Parks family's annual celebration of everything that is unique and wonderful about our 15 National Parks – Britain's breathing spaces." – National Parks
Each summer the National Parks Week takes place, which celebrates the unique beauty of Britain's 'winning landscapes' and encourages people to visit national parks across the United Kingdom.
From 24th July – 30th July 2017, National Parks Week is taking place.
If you are heading to one of the 15 National Parks this summer don't forget to take the relevant A-Z Adventure series map. These maps contain all the information you will need in one handy book and feature the Ordnance Survey's 1:25 000 mapping, showing public rights of way, open access land, national parks, tourist information, car parks, public houses and camping and caravan sites.
National Parks – England
"10 National Parks cover 9.3% of the land area in England"
The Broads
The Norfolk and Suffolk Broads is Britain's largest protected wetland. The Broads, with its rich history, rare wildlife/plants and beautiful waterways is part of the National Park family. More than seven million visitors come to the Broads each year, attracted by all it offers. The Broads National Park is a unique mosaic of gentle landscape, lakes and rivers covering 303 square kilometres.
"Whether you are exploring by land, water or both, there is plenty to do for all ages. Pretty towns and villages dot the landscape and, with Norwich on the doorstep, the Broads is the only member of the national parks family to embrace a city with all the history, cultural activities and shopping opportunities that brings." – Broads Authority
Dartmoor
Dartmoor National Park is a vast moorland in Devon, southwest England. Rich in outstanding natural beauty, with wild open moorland, striking granite tors and peaceful wooded river valleys, Dartmoor is a popular destination for walkers who can roam freely over Dartmoor common land and other access land. Around 2.4 million people visit and enjoy all Dartmoor has to offer each year.
Our A-Z Adventure Atlas of Dartmoor features 70 pages of continuous OS mapping covering Dartmoor National Park and other areas.
"Dartmoor has the largest number of archaeological remains in Europe. So if it is stone circles, menhirs, stone crosses and ancient villages that get you excited, Dartmoor is the place to be. In fact, it is where Time Team were, unearthing all manner of interesting artefacts." – Visit Dartmoor
Exmoor 
Exmoor National Park is a unique place shaped by people and nature over thousands of years and is recognized as one of the UK's finest landscapes. Large areas of open moorland provide a sense of remoteness and tranquility rare in southern Britain. Spectacular coastal views, deep wooded valleys, high sea cliffs and fast flowing streams all combine to form a rich and distinct mosaic.

Exmoor National Park receives around 1.4 million visitors each year.
This A-Z Adventure Atlas of Exmoor covers the whole 267 square miles of Exmoor National Park. From high coastal heaths in the north to open moorland and wooded valleys to the south, this uniquely diverse landscape is just waiting to be explored. During National Parks week, Exmoor National Park have a range of events on throughout the week. You can find out whats on and how to get involved on the National Parks website.
The Lake District 
The Lake District National Park is the second largest national park in the UK and encompasses almost the whole of the Lake District. This area of breathtakingly vivid landscapes comprises of lakes, rivers, mountains and forests. Given its untiring scenic splendour and diversity, the Lake District National Park has been inspiring artists and athletes alike for decades.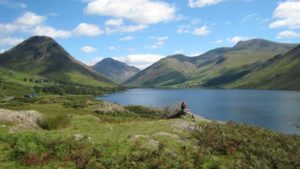 Current surveys show that 15.8 million visitors come to the Lake District each year. Most come to enjoy the scenery, peace and quiet and walking but many others visit specific attractions or take part in an outdoor activity.
If you are planning on heading to the Lake District this summer, don't forget your A-Z Adventure Atlas! We cover the Northern & Southern Fells.
New Forest
The New Forest is an area of southern England that includes the New Forest National Park. This region is well known for its healthland, forests and native ponies. You will also find the National Motor Museum that houses F1 race cars and motorbikes.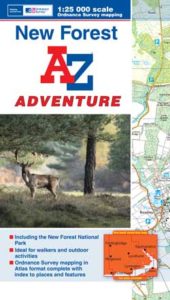 This A-Z Adventure Atlas of the New Forest features 54 pages of continuous Ordnance Survey mapping covering the whole 570 square kilometres of the New Forest National Park. From ancient woodland and lowland heath to historic shipbuilding sites and beautiful villages, this distinctive landscape has been shaped by man and grazing animals alike. With an extensive network of footpaths and way-marked cycle tracks the visitor has abundant opportunities to experience and enjoy this vibrant countryside.
Northumberland
Northumberland National Park is home to some of England's cleanest rivers, clearest air and darkest skies. You can explore the Roman history by visiting Hadrian's Wall UNESCO World Heritage Site or get your walking boots on and explore the endless stunning scenery.
Our official National Trail Map of Hadrian's Wall Path is one of our newer publications that features 38 pages of continuous Ordnance Survey 1:25000 mapping, providing complete coverage of the Hadrian's Wall Path. The atlas includes a route planner showing distances between places and the amenities available
"Relax in picturesque valleys, uncover hidden histories and learn more about our wildlife and habitats. Visit spectacular waterfalls and woodland or walk through ancient palaces and beautiful hay meadows." – Northumberland National Park
North York Moors 
Thomas Tolkien / Flickr (CC by 2.0)The North York Moors National Park is a beautiful National Park full of history, nature and vibrant landscapes. With over 1,400 miles of natural beauty, this enchanting region is home to moorland, pine forest and beautiful coastline.
This National Park is ideal for walking, hiking, cycling and horse riding. Grab your walking boots and you too can explore the outstanding coast line, valleys or stunning forests.
Lots of exciting activities are happening at the North York Moors for National Parks Week, you can find all the information you need to keep the kids entertained this summer break directly from the North York Moors site.
South Downs 
From busy towns to rolling hills, the South Downs National Park has landscapes that cover over 1600km of breath-taking views. You can discover the white cliffs of Seven Sisters, woodland and rolling farmland. The South Downs National Park has something for everyone.
The South Downs National Park has lots of events and workshops happening over the summer holidays.
"Ancient woodlands home to gnarled yew trees. The iconic Seven Sisters cliffs. The homes of some of our finest artists and writers, including Jane Austen and Virginia Woolf. For anyone looking for iconic England, it's here to be discovered." – South Downs 
Yorkshire Dales 
The Yorkshire Dales has many moods; it can be wild and windswept or quietly tranquil.
It includes some of the finest limestone scenery in the UK, from crags and pavements to an underground labyrinth of caves. Each valley or 'dale' has its own distinct character, set against expansive heather moorland tops.
Stone-built villages sit amongst traditional farming landscapes of field barns, drystone walls and flower-rich hay meadows, and show how the area has been shaped over thousands of years by the people who have lived and worked here.
Spectacular waterfalls and ancient broadleaved woodland contrast with the scattered remains of former mine workings and other rural industries which remind us of the area's rich industrial heritage.
Peak District 
If you are going to visit any of the 15 National Parks in Britain during National Parks Week or any other time of the year for that matter, then ensuring the Peak District National Park is part of the agenda is highly recommended. With rolling hillsides interrupted by jagged rock formations and peaks and network of dry-stone walls dividing countless moor land meadows it is understandable why the Peak District National Park attracts around ten million visitors a year.
For more information on the events taking place during National Parks Week and what other athletes these immensely beautiful areas have inspired, visit the official national parks website.
National Parks – Wales
"3 National Parks cover 19.9% of the land area"
Brecon Beacons, South Wales  
With moorland, mountains, castles, standing stones and waterfalls – the Brecon Beacons National Park has plenty to offer visitors. Brecon Beacons National Park is around 42 miles wide and covers approximately 520 square miles of South and Mid Wales and includes parts of Powys, Carmarthenshire, Monmouthshire, Rhondda and Merthyr Tydfil. It gets its name from the Central Beacons, which dominate the skyline south of Brecon. They rise to 886 metres at Pen y Fan, the highest peak in southern Britain.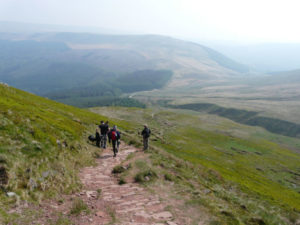 The Brecon Beacons receives around 4.15 million visitors on average per year.
If you're planning on heading to the Brecon Beacons this summer, don't forget your A-Z Adventure Atlas!
Snowdonia
Snowdonia National Park is a breath-taking destination for holidays, breaks or days out with the family. There is such a varied terrain in Snowdonia, from mountain peaks to long sandy beaches – there is something for everyone. It's most well-known for hiking but there is so much more to enjoy.
You will find simply stunning waterfalls and lakes along with amazing mountain biking routes! You can also climb aboard the vintage steam railway that climbs to the highest peak in Wales.
"Snowdonia is a great place to come walking and we have a network of walks for people of all abilities. Whether you want the challenge of ascending Snowdon, the highest mountain in England and Wales, or prefer one of our leisurely walks along the coastline, you're guaranteed breathtaking scenery and diverse landscapes." – National Parks
Pembrokshire Coast 
Pembrokshire Coast is Britain's only fully coastal National Park with around 620 sq km of cliffs, beaches and harbours. With a long distance walking trail along the coastline, opportunities to spot dolphins, basking sharks, seals and seabirds, cycling trails, horse riding, canoeing and historical sites, there really is something for all the family.
National Parks – Scotland
"2 National Parks cover 7.2% of the land area"
Cairngorms is Britain's largest National Park containing the highest mountain range and biggest forests. You will also find spectacularly clean rivers and lochs, farmland and moorland and an abundance of British wildlife!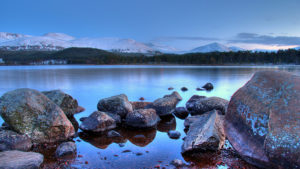 Cairngorms is great for hillwalking, climbing and cycling, so something for all the family.
The National Park encompasses around 720 sq miles (1,865 sq km) of some of the finest scenery in Scotland and is split into four distinct areas. It is a place of contrasts, from rolling lowland landscapes in the south to high mountains in the north, and has many lochs and rivers, forests and woodlands. It is also a living, working landscape which has been influenced by people for generations and is visited and enjoyed by many for its recreational value.
There are events across the UK's 15 National Parks, including many free family events and special events during National Parks Week. We would love to hear about your National Park adventures, comment below with the ones you have visited.