Bournemouth Marathon 2016 progress update
A few months after committing to run a marathon, the stark reality of the challenge is starting to dawn on the A-Z team – this is going to hurt! The initial optimism (mainly Kieran's) and bravado is starting to wear off as people's thoughts turn towards training and the distinction between perceived fitness and actual fitness hits home. The dedication of the team during this first few months has varied.
Caroline
Team Captain Caroline's immediate response was to go shopping and buy herself some new shoes – running shoes. Taking her leadership role very seriously, she went to a specialist running shop to have her gait analysed by professionals to determine the most appropriate footwear, very sensibly extolling the virtues of this important preparation to anyone within earshot. She returned from this analysis to happily announce that she is flat footed, not metaphorically but fully fledged flat footed, much to the surprise of the staff in the shop who seldom encounter customers like her. Armed with this new found knowledge, she has been reportedly (by her) regularly swimming to build up a base level of fitness as she does not want to peak too soon.
Steve
Steve has been predictably taking the whole thing far too seriously, has entered a couple of races and the odd niggle aside, was fairly smug about his progress. Until he decided to buy a Garmin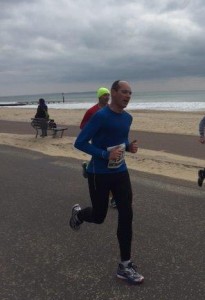 running watch to analyse every conceivable statistic. Unfortunately, Steve's technological skills remain firmly in the luddite age. The multiple options and buttons have meant that he has been unable to gleam anything useful from this new investment. Unfortunately the company's IT team have been unable to assist, applying the computer policy rules Steve wrote about not working on personal devices in work time. It seems more likely that he will have completed the marathon in October before he works out how to use the Garmin properly.
Kieran
Kieran's positive attitude and relaxed demeanour remains unchanged and he is still remarkably busy as he was keen to emphasise. However, Team Captain Caroline has a concern after Kieran
decided to embark on his first run of the year, a 7 km circuit during his one hour lunch break. An outraged Team Captain duly noted that he was late back from lunch and was bright red faced for the rest of the afternoon. Considering the appropriate course of action, she has decided that it indicates something about his running speed or elaborate shower and beauty regime, or maybe both. Worryingly, he has also discovered that he has a dodgy knee and fears future training may be restricted to donning a mask and cape and re-enacting fairy tales with his four year old daughter.
Phil
Phil's response to entering the marathon has been quite extraordinary. He considered and swiftly dismissed dry January. He then left the office one Friday afternoon, furtively talking to a couple of colleagues just before leaving, only to emerge via Facebook in Sydney Australia. The general sense of surprise and best wishes was replaced by bewilderment when he was happily back at his desk one week later. To this day his motives remain unclear, to launch Sydney as a short break destination or to get some specialist coaching from some Aussie sports guru. Team Captain Caroline suspects that it was nothing other than an opportunity to enjoy some cheap Aussie beer in the sun but surely this youngster has some secret master plan to achieve elite status.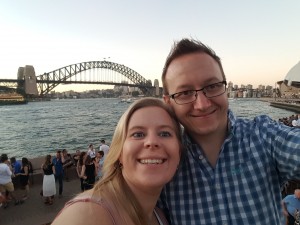 Help and advice
If you have any advice or suggestions for the team, please let us know. The team members are also (reluctantly) considering entering some races over the summer in the South East area so please get in touch if you have any suggestions.
Fundraising
Lastly, please don't forget that we're fundraising for 3 very worthy causes so please help if you can and sponsor us to help us reach our target.