No one is born with map reading skills, it is something that is learnt and built-on with use. Of course, there is a big difference in the level of ability required when comparing a low-level walk in good weather along waymarked paths and high-level navigation across difficult terrain in poor weather. However, what is common to both is making sure that you take the right map for the job along with you.
So, don't be put off by the thought of using a map, get out there and experience the countryside one step at a time!
Here, at A-Z, we think that Ordnance Survey's 1:25 000 'Explorer' mapping cannot be beaten when it comes to walking outdoors, so much so that we use it in our Adventure Series of publications!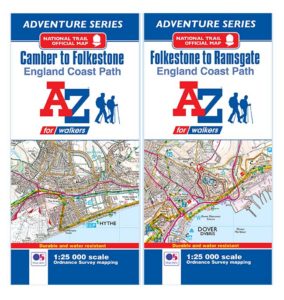 The key to developing your map reading skills and gain confidence is to do things gradually. Purchase an OS Explorer Map covering your local area or a part of the countryside nearby that is familiar to you.
Map features – the first step in developing map reading skills
Before you even step outside, take time to look at the map reference – don't worry that you won't remember everything – 'everything' will not be on your route! What you will appreciate straight away though is the range of useful information that this map series shows, even if you can't always recall the exact details.
Just looking at the 'Public Rights of Way' section will boost your confidence – the chances are that you'll mainly be walking along these 'green line' routes.
Map scale is important too, because you'll want to know how far you will be walking. So, as a novice embarking on an easy walk, we will keep things simple: The blue grid lines on a 1:25 000 map are 1 kilometre apart, so you can quickly estimate distance by counting how many squares your route crosses in a straight line or 1.5 km diagonally. There are, of course, more accurate ways of measuring (using a string along your route and then measuring it against the scale bar) and let's not complicate things further in this blog by talking about pacing (an accurate method of judging distance travelled on the ground).
These first steps have already increased your knowledge and understanding; an essential part of map reading skills.
Planning your first walk to develop map reading skills
Don't be too ambitious with your first walk as the idea is to pay close attention to the map detail and your surroundings; a circular walk of under 5 miles, for example, or an out-and-back route along the same path(s). Motivate yourself further by selecting a route with a 'reward' midway or at the end (a stop at a pub or a café?) and take a friend along for company and reassurance. It may be useful to mark your route with a highlighter pen (orange is very visible and still allows map detail to clearly show through; blue highlighters tend to be too dark for example). Each of our National Trail Adventure Maps are printed with the route highlighted in yellow with handy mileage markers too! (see the map extracts in our sample walk below).
So, you have familiarised yourself with the map and have chosen a simple route; what should you take with you? Well, assuming your first walks will be short and relatively flat along well maintained paths (as waymarked paths generally are) and in good weather, then training shoes should be okay. Better still are sturdier 'approach shoes' or walking boots which provide ankle support. Also, be sure to take a shower proof jacket with you and water to keep hydrated. If you have one, then a rucksack is useful for carrying everything in
A walk demonstrating map reading skills
We are going to walk a small section of the England Coast Path in Kent to demonstrate some basic map reading skills. This is an out-and-back route starting from the White Cliffs of Dover Visitor Centre which has ample car parking.
DISTANCES & TIMES:
White Cliffs of Dover Visitor Centre to South Foreland Lighthouse and back: 3.7 miles (6km) allow 1.5 – 2 hours.
White Cliffs of Dover Visitor Centre to St. Margaret's Bay and back: 6 miles (9.6km) allow 2- 3 hours.
If you intend to do this walk, then please make sure you do so with the actual map rather than by using these extracts. The A-Z Adventure Map of the England Coast Path, Folkestone to Ramsgate section:
Looking at the map we can see several blue symbols; some may be familiar and some intuitive (e.g. car park and toilets), while others you may need to look at in the reference (e.g. Visitor Centre, picnic site and viewpoint). One thing to note is that symbols are sometimes placed clear of map detail and a 'leader' line is used to locate their exact position, as seen with the car park, toilets and picnic site group.
So, to start with we need to know where we are on the map before we look to head off in the right direction. Fortunately, the Visitor Centre is an obvious landmark to start from and, as we are heading east along the coast, we start walking along the access road with the sea on our right. Remember, don't walk and view the map at the same time as you're almost certain to trip!
Now would be a good time to mention waymarks – these footpath signs can be posts, disks or metal signs and we encounter one on the path at the end of the access road: An England Coast Path post with the National Trails Acorn logo. This, along with the transmission mast we can see on the map confirms that we are on the right path.
The path ahead takes an easier route following the contour line at the top of Langdon Hole. Contours, the brown lines on the map, communicate the rise and fall of the land in metres. You can tell by the sequence of numbers whether your route is going downhill or uphill and how steep any slope is by how close together the contour lines are. In the case of Langdon Hole we can see that our path stays high, unlike the path to the south which descends into this bowl-like feature and then back up and out the other side. This map reading skill is particularly useful.
We are walking along part of the England Coast Path, but ahead of us on the map we can see that the path is also named as the 'Saxon Shore Way' and as the 'White Cliffs Country Trail'. This is because the England Coast Path makes use of existing sections of coastal path whilst retaining local waymarked path identities. This is important to know as sometimes the National Trail 'Acorn symbol' is less visible, sitting alongside the local name on signs.
Looking at our intended path on the map we can see that next to the National Trust symbol there is a lighthouse (the South Foreland Lighthouse).  Look out for this clear landmark ahead, as our route will run alongside it. Better still there is an opportunity to visit the tea rooms there or take the tour to the top and step out onto the balcony for extensive views. You could, if you wanted to, return to the start from here – a nice enough walk by itself, but we will continue to St. Margaret's Bay.
Leaving the Lighthouse our path joins a section of road/track as we head towards St Margaret's Bay. Take a close look at the minor roads and tracks outside of towns and villages on the map – they are not all shown the same. A solid line indicates a fenced section and a dashed (or pecked) line shows that it is unfenced. It is not unusual for one side of the road to have a solid line (fenced) while the other side is pecked (unfenced). Understanding how information like this is shown improves your map reading skills and helps to locate you on the ground.
Once again, we look on the map to confirm that we are still on the right route with a named windmill symbol ahead. It is obscured by trees from the path, but the top is clearly visible as we approach.
The map shows that our route turns off the track shortly after the windmill (see map above), so we are careful to look out for signs which lead us back onto chalk grassland with views along the coast. We re-join the road paying attention to a right-turn heading towards St Margaret's Bay. Ahead of us are more of those useful blue tourist and leisure symbols: A 'Garden' on the left (The Pine Gardens) and 'Museum' with a leader on the right. St Margaret's Museum includes The Pine Gardens Tea Room, ideal for another refreshment stop. Alternatively, the 'Public House' symbol (beer mug) a little further on by the seafront might be your preference.
There is plenty of time to wander around or enjoy the beach here in St. Margaret's Bay; look out for the 'boat house' and the Art Deco house at the eastern end of the sea front, once owned by Noel Coward and then Ian Fleming.
Confident in our new-found map reading skills, we now retrace our steps back to the start using the map with the sea on our left; by the way, get into the habit of turning around and looking back when walking an outbound leg as this 'visual memory' can be helpful when returning along the same paths.
A popular walk like this is a great opportunity to read and understand your 1:25 000 map and develop your map reading skills while enjoying the great outdoors. It is now time to take a well-earned rest and a treat (cake?) in the Visitor Centre before heading home to plan your next trip out.