Recently the A-Z Digital team visited one of our emergency service providers, London's Air Ambulance based at the Royal London Hospital in Whitechapel.
The first thing we were excited to see was a line of bright red rapid response vehicles that are always on-call to get to an emergency as quickly as possible. It takes less than 4 minutes to get the helicopter off the helipad however it can be quicker to dispatch a car, this is particularly noticeable when you look down Whitechapel road from the hospital and see the City office towers suggesting a difficult landing spot for any helicopter. It is here that we first came across the principal usage of A-Z map data, in the form of a handheld tablet device clearly displaying that iconic easy-to-read cartography that makes A-Z mapping so indispensable to emergency services.
Entering the hospital in anticipation in seeing this famous charity in operation we were guided to the 17th floor, via a secure elevator, of course. We arrived into a foyer and a corridor of offices which is where we were to meet one of the operations team.
Ardently, even after working through a night shift, we were shown how the air ambulance service uses our data in their vehicles and aircraft to navigate to get to emergencies as quickly as possible. We are told that our data is the easiest to read, when driving at close to 100mph in The City! – The advanced trauma team have to get to patients as soon as possible.
That morning we learned that they had shut down the A40 into London due to an accident, reminding us this is an active service dealing with real life threatening situations. On average, five people every 24 hours in London are so seriously injured they need advanced life-saving medical treatment before they reach the hospital this is the reason LAA exists; to provide trauma care to the population of London. We continued the visit out of the offices and through two large grey doors, wide enough for a team to transport a critical patient into the hospital in a rush, beyond these doors are the upwards sloping walkway to the helipad on the 17
Well, we picked a lovely day to see the commanding views awarded from the top of a sky scraper in central London. Taking in the view and perhaps because the topic was on aviation one realises the size of London aviation At one time we could see the Metropolitan Police (NPAS) Helicopter, News Helicopters and lots of passenger aircraft flying into and out of both London City and Heathrow.
Our guide, a fire officer, enthusiastically showed us around the aircraft and ran us through its capabilities and functions "made out of carbon fibre" making it light and more fuel efficient, enable the charity to get to locations in London the most efficiently as possible travelling at close to 170mph to get to a situation.
Bearing in mind the density of London the helicopter design considers urban areas and uses a NO TAil Rotor system (i.e. no spinning blades on the rear) to make flight operations safer particularly when landing in parks and green spaces within the city.
It is at this point we heard about some of the incredible procedures the doctors and paramedics undertake in this profession, literally hand pumping a heart in the streets of London to keep a patient alive on their way to hospital is mind-boggling.
Perhaps 10 minutes into the tour a siren goes off and we walk swiftly to a spot to witness in 3 minutes and 50 seconds the helicopter start up and head off to an incident in north London.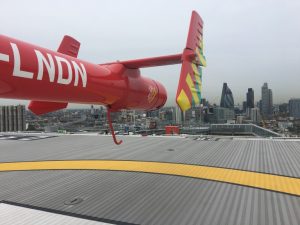 We watched as the helicopter descends to the incident in incredible time.
We were very privileged to see how our mapping provides the London's Air Ambulance the ability to get to people in need effectively.
Written by: Simon Kettle Digital Data Sales manager