Do you have the knowledge? Find out how well you know Britain's streets in this A-Z quiz.
History
Edinburgh Castle
Edinburgh, Scotland
Historic castle
On a prominent volcanic rock, at the head of The Royal Mile, and overlooking the old and new towns of Scotland's capital, sits Edinburgh Castle. There has been a royal fortress on the rock since the time of King David in the twelfth century and there is evidence of human habitation here a millennium before that.
1. Can you find a building that is a cross in both name and appearance?
Hint: It's on the map
Sport
Wimbledon
London, England
The UK's tennis hub
Absorbed into London in 1965, Wimbledon is a large neighbourhood of South West London some seven miles from the city centre. It is famous as the home of lawn tennis, and each year it hosts the Wimbledon Tennis Championship, the oldest and most prestigious tennis contest in the world. It is well-known for its strict dress code, its royal patronage, and the strawberries and cream that are traditionally eaten at matches. In 2017 spectators consumed 34,000 kg of strawberries and more than 10,000 litres of cream.
2. Murray Road can be found in the map below, but when Andy Murray won the Gentlemen's Singles at Wimbledon in 2013 how long had it been since a British player had won that title?
Hint: General Knowledge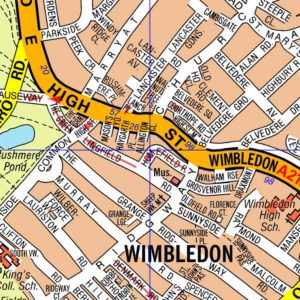 Entertainment
London's West End
England
Tourist and theatre region of Central London
For more than one hundred years it has been known as Theatreland due to the countless plays performed in the area. Many shows in London's West End Theatres run for years, catering to tourists from around the world. Les Misérables has been running since 1985, but the record holder is The Mousetrap by Agatha Christie which has been running since 1952 and recently celebrated its 26,000th performance.
3. Can you locate a major street that shares its name with a word for a piece of hair?
Hint: It's on the map
Transport
Mancunian Way
Manchester, England
Elevated Motorway
Cutting through central Manchester and constituting part of the city's inner ring road, the Mancunian Way is a two-mile stretch of raised motorway that runs east to west across the city from the neighbourhoods of Hulme and Moss Side. It crosses the campuses of Manchester's two universities and bisects Oxford Road, which is well known as Manchester's Curry Mile.
4. Which street sounds like somewhere that good games behaviour is required?
Hint: Cryptic Challenge
Nature
Royal Botanic Gardens at Kew
London, England
Botanical gardens and archive
In the far South West of London, Kew Gardens is home to the largest and most diverse botanical collection in the world, containing a plethora of greenhouses, nurseries, arboreta, lakes and follies. Beginning its life as the exotic garden of Kew Palace, and becoming the Royal Botanic Garden in 1840, Kew is home to more than 30,000 varieties of living plant as well as over seven million preserved plant species. Its library houses 750,000 books and more than 100,000 prints and drawings of plants.
5. There is a feature on the map that, if its first letter was changed, would become a common meteorological condition. It is seven letters in length. What is it?
Hint: Cryptic Challenge
---
These puzzle questions all feature in the new Collins A-Z Puzzle Book which is now available to buy online and at all good bookshops.
---
Answers
Scroll down for the answers
HISTORY
Heriot Cross – the building is both cross-shaped and contains the word 'cross' in its name
SPORT
77 years. Fred Perry (1909–1995) was the last British tennis player to win that title, back in 1936
ENTERTAINMENT
Strand
TRANSPORT
Playfair St. – 'play fair'
NATURE
Haining Cl. – if you change the first letter from 'h' to 'r', it forms the word 'raining'